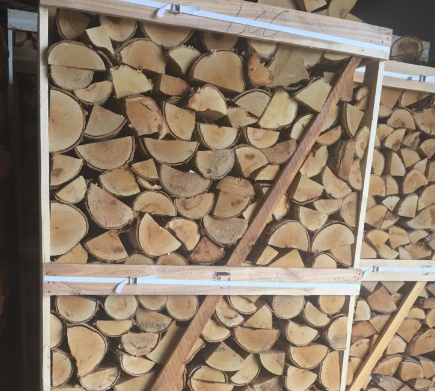 With the current heating season now upon us, we are pleased to advise that we now offer a range of additional premium low carbon solid fuels to the market.
These products include Kiln Dried hardwood logs of Ash, Birch and Oak in crates of 1M3 and 2M3 plus pallets of 25L bags of Ash.  We will be broadening this offering further over the next month.
These Kiln Dried firewood logs are cut into 25 cm lengths and have a moisture content less than 20% with typical moisture values at circa 12% and some as low as 5% making them ideal for high heat output.
The main features of our premium firewood logs are:
High Heat output.
As our premium firewood has a very low moisture content, the heat output is maximised and very little heat is lost in evaporating the moisture in the logs. This ensures the maximum heat output is available to heat your home.
Clean burning.
Our low moisture kiln dried firewood, will burn cleaner and prevent the build-up of tar or creosote in your chimney flue and stove
Low carbon emission and smokeless fuel
The low moisture content of our firewood will significantly reduce carbon emissions and produce very little smoke.
Clean and easy to handle
All our products are clean and easy to handle – preventing damage and stains caused by other solid fuels
Low ash content
Once the firewood is fully burned, the remaining ash content is very low and is typically about 0.7% of the volume of the original firewood. This ash is full of nutrients and can be used as a fertiliser for your garden.
As a business with a primary focus on quality, we look forward to continue supplying the market with our superior quality premium firewood products.
We will keep you updated as more product offerings become available.